SPECIAL OFFERS

Notary Rotary, a nationwide notary organization based in Des Moines, has partnered with AAA to bring discounted Home and Auto insurance to Iowa's notaries public. Great insurance at great rates!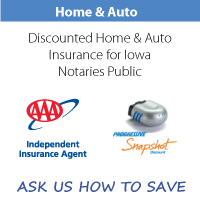 We also offer Life and Health insurance to Iowa notaries through great companies like Aviva and Wellmark.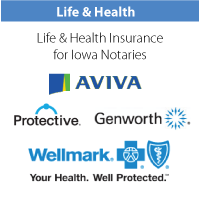 To top it all off, we're now offering Business insurance to Iowa companies that employ notaries.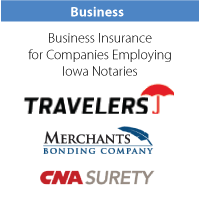 If you would like a quote, please call our Des Moines office at

515-309-1351

Privacy Statement. We value your privacy at Iowa Notary Supply. Our use of your personal information is limited to activities in support of the stamp fulfillment process and we will attempt to be as unintrusive as possible while still providing you with great stamp deals. Here are our privacy guidelines:
1.
We do not share your information with other companies except for the express purpose of fulfilling your order. For example, in the event a third-party is manufacturing a stamp for us, we will need to communicate your name, commission number and commission expiration date to that company in order for them to manufacture your stamp for us.
2.
We do not place cookies on your computer.
3.
We do not allow banner ads or pop-ups on our site.
4.
We will limit our direct marketing communications to you to approximately 1 message per year, generally, in the form of either: a) An e-mail, b) a phone call, or c) a direct mail piece, such as a postcard.
5.
If you do not wish to be contacted by us, please send us a message using our Contact Us form. Include your name, commission number and your contact preferences:

May we may contact you by e-mail?
May we may contact you by phone?
May we may contact you by direct mail?

We will make every effort to honor your request.