Notary Stamps at Notary Rotary
If you are looking to purchase a quality notary stamp, look no further. At Notary Rotary, we sell brands like Ideal, Vision, Ultimark, Stingray, Vector, 2000 Plus and Trodat. This page describes the Stingray, which is available in nearly every state.


Features: With an attractive and durable design, the Stingray™ pre-inked notary public stamp is capable of producing thousands of crisp impressions without having to re-ink. Engineered for years of use, if the Stingray™ impression ever begins to fade, re-inking fluid can be easily added for thousands of additional impressions. With proper care, the impressions will remain clean and crisp throughout its life. The image at right is a low-resolution scan of an actual Stingray™ impression.
To Buy Notary Stamps and Seals for Your State, Click a Link:
Alaska
Alabama
Arkansas
Arizona
California
Colorado
Connecticut
District of Columbia
Delaware
Florida
Georgia
Hawaii
Iowa
Idaho
Illinois
Indiana
Kansas
Kentucky
Louisiana
Massachusetts
Maryland
Maine
Michigan
Minnesota
Missouri
Mississippi
Montana
North Carolina
North Dakota
Nebraska
New Hampshire
New Jersey
New Mexico
Nevada
New York
Ohio
Oklahoma
Oregon
Pennsylvania
Rhode Island
South Carolina
South Dakota
Tennessee
Texas
Utah
Virginia
U.S. Virgin Islands
Vermont
Washington
Wisconsin
West Virginia
Wyoming
Notary Stamp Evolution
The Stingray™ falls into the category of premium notary stamps. Premium notary seal stamps are generally pre-inked and can produce up to 50,000 impressions, depending on the stamp model, size of the text or image, the duration the stamp is held down each time it is used (more time = more ink released) and its internal ink capacity. Premium notary stamps are often purchased by the more experienced notary and, because they typically retail for about $30, they are seldom included in notary starter kits. Instead, starter kits often contain inexpensive traditional rubber stamps or Ideal® Self-Inking stamps. The following graphic illustrates the evolution of notary stamps. The Stingray™ represents one of the latest technologies.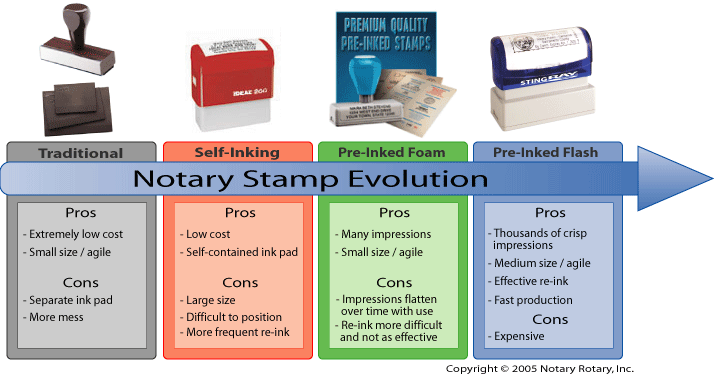 For information on Notary Rotary's embossing notary seals, please visit our notary seal page.

Stingray® is a trademark of Notary Rotary, Inc.